There are many hundreds of Allium species that exist but only a handful have made a name for themselves as garden plants. These adorable ornamental onions distinguish themselves by their great diversity in color, inflorescence and flowering height. All species can be used in the border and certain small species are just perfect for a rock garden and several lend themselves to naturalizing.
The Drumstick Allium is one of the summer-blooming Alliums. It has egg-shaped flowers in summer  that start off green, then bloom and develop to pink and then clover red-purple. The beauty of the small lavender flowerheads of chives have always been a decorative highlight in herb gardens. These plants are attractive in a bed or border, especially peeking up through other plants, such as roses, so that their nondescript foliage is hidden. Their vertical presence and eye-catching flower shape are valuable additions to the garden, and they naturalize freely. The charming purple-red drumsticks bloom in midsummer and then fade as summer wears on.
Image Source: http://www.hortmag.com/plants/plants-we-love/drumstick-allium-round-purple-flowers-grown-from-a-bulb
This plant requires full to part sun and a well-drained soil.  Alliums can be grown in Zones 3 to 9, depending upon the species and cultivar.  From seed  sow in containers in a cold frame when ripe or in spring. Some Allium take two years to germinate. Remove offsets in fall. Growing drumstick alliums is easy. Water the plants regularly during the growing season, then let the foliage go dry after blooming ends in late summer or early autumn. Allow the leaves to die down to the ground.  Take not of its notable problems: bulb rots in damp conditions, white rot, mildew, rust, smut, and various fungal leaf spots can occur. Onion fly and thrips are also possibilities.
Image Source: https://www.pinterest.com/pin/399483429419325729/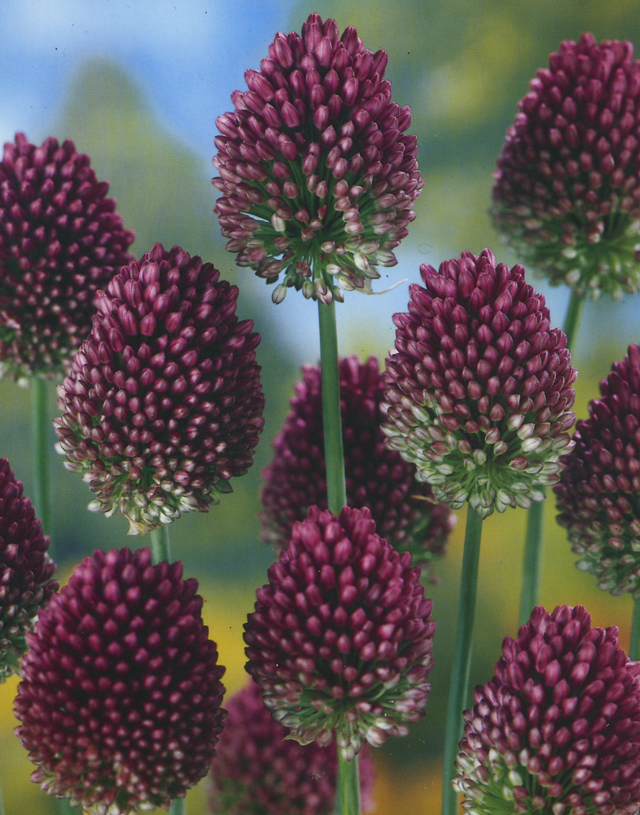 Image Source: http://www.flowerbulbcrazy.com/purple-balls-of-allium/
It can be purchased from the following sites:
http://www.americanmeadows.com/allium-bulbs-drumstick
http://www.whiteflowerfarm.com/331003-product.html#
http://www.brecks.com/product/Drumstick_Allium/Spring_Flowering_Bulbs
http://www.edenbrothers.com/store/allium_bulbs_sphaerocephalon.html
http://www.amazon.com/gp/search?ie=UTF8&keywords=drumstick+allium+seeds+plants&tag=folia-20
Vintage Belle Jewelry has been making broken china jewelry since 1994.  Our passion is to help our customers find a piece of broken china that brings back a fond memory or to make new ones with their families.  Thanks to all of our customers and fans who have helped support Vintage Belle broken china jewelry become a success over the years!
See more lovely broken china jewelry in our shop HERE. www.brokenchinajewelryshop.com
What our customers are saying…
"The roses in this jewelry are just beautiful!".  Rosa M.
Click here to subscribe to our email newsletter!