There are many churches all over the globe that have been converted into impressive homes, offices and bookstores. The designs range from modern and minimal to rustic and cozy.  Churches are some of society's most stylistically beautiful buildings so reusing and repurposing old building can only be money-saving but also history-preserving. Some of these beautiful churches turned into modern homes were to be demolished. It might not suit everyone's tastes but converting churches into houses have become very popular. Old churches have a distinct architecture style that is both grand and appealing.

Image Source: https://picasaweb.google.com/109626371584630100989/MyDreamHome#5730715333838094786
In communities across the U.S. churches that have lost their congregations are being bought up and converted into artsy condos and homes. As residences they often retain many of the design details that make them look like houses of worship, including steeples and bell towers, unique and huge entrance door, distinctive windows and in some cases sacred spaces. Living in a converted church takes getting used to but its very rewarding, you get to preserve a piece of historical architecture and enjoy its unique style and enormous space.

Image Source: http://www.oldhousedreams.com/2011/06/13/1884-church-manhatten-ny/
Converting churches into homes isn't an easy decision to make, there are things to consider such as renovation costs, the layout and of course what to do with the graveyard as many churches have one.
Image Source: http://dornob.com/change-of-congregation-lovely-little-converted-church-home/
On Renovation – turning a church into a comfortable home could be quite costly especially if the church is really old. Some churches the newer ones already have fully equipped kitchens, bathrooms and an office so in cases like this the cost won't be probably be too much but if the church is an older one without any upgrades then the cost double. Adding a kitchen and bathroom adds significantly to your renovation costs. Check closely the building's energy efficiency, stone buildings will keep your home cool during the summer months but they can be pretty costly to heat during the winter months. Another thing to consider is the change in the decor replacing a large stained glass window or replacing the massive door, both projects would be costly. More importantly check if the church you're purchasing is listed on the National Register of Historic Places because if it is then it means going through a lot of hoops seeking permissions and the like to make changes on the structure. So to be safe before buying the church for conversion make sure you like the overall structure.
On the Layout – apart from considering the structure of the church you have to consider the layout as well. The church might have its own bathroom and kitchen but they could be situated in the basement or at the back of the building. Carrying groceries all the way to the back of the building might be taxing. Also most churches have large courtyards or parking lots that would take a lot of maintaining to do, is that something you are prepared to do? The openness of the room and the high ceilings so often found in churches can also make choosing and hanging art difficult.
The Graveyard – living next to a graveyard might be creepy for some people but for others who don't mind they might consider the maintenance too much, you would need to keep the grasses and shrubs trimmed. Also you'd have to get used to people dropping by to visit their interred relatives.
Consider all the above factors and some others before you decide to buy a church and convert it into a home.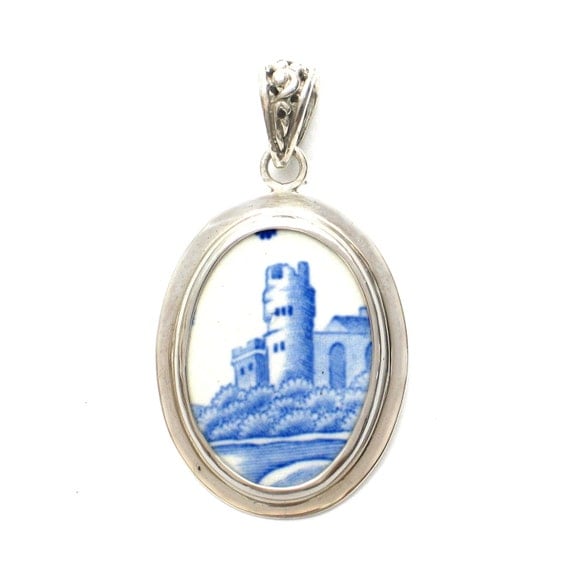 See more lovely broken china jewelry in our shop HERE www.brokenchinajewelryshop.com
What our customers are saying…
"Old Country Roses is more stunning in sterling!"   Elena D.