Brugmansia is a genus of seven species of poisonous flowering plants in the family Solanaceae. Brugmansia was named after Sebald Justin Brugmans, a Natural History professor in Holland. Their large, fragrant flowers give them their common name of Angel's Trumpet. It is a heat-loving tropical or subtropical shrub that likes warm (80 -85 degrees F) days and cool nights. Brugmansia are native to tropical regions of South America, along the Andes from Venezuela to northern Chile, and also in southeastern Brazil. Brugmansia can be grown in a container in cold winter regions but they have to be taken indoors during the winter months. They must be grown in moist well drained soil. They have been grown as ornamental plants all over the world and have become naturalized in isolated tropical areas around the world including within North America, Africa, Australia and Asia.
Click here to shop Angel Trumpets.
Image Source: http://www.strangewonderfulthings.com/137.htm
Angel Trumpet have fragrant trumpet-shape flowers dangling from upright stems and appear in shades of white, yellow, pink, orange and cream. All parts of Brugmansia are poisonous if eaten and the plant has been banned in some communities. Most of the species of Brugmansia are fragrant in the evenings to attract pollinating moths. One species lacking scent is the red flowered Brugmansia sanguinea which is pollinated by long-billed hummingbirds. Angel Trumpets are sun-loving, fast-growing plants. Angel Trumpets need well-drained soil and when grown in a pot make sure that the container has a large hole in the bottom to allow easy water passage.
For Angel Trumpets planted in containers watering daily is required, don't keep the pot in a saucer of water as this will make the soil soggy and this is not what the plant likes. Keep in mind that Angel Trumpets are heavy feeders and in order to keep producing flowers a liquid, blossom-boosting fertilizer is required. Remember to water with plant food at least every other week keep in mind you can't feed these plants too much, especially those in containers.
Angel Trumpets are commonly available in nurseries and through mail order catalogs. They are easy to root and are available for pass-along gifts for fellow gardeners.
Image Source: http://www.strangewonderfulthings.com/345.htm
Image Source: http://davesgarden.com/guides/pf/showimage/15423/#b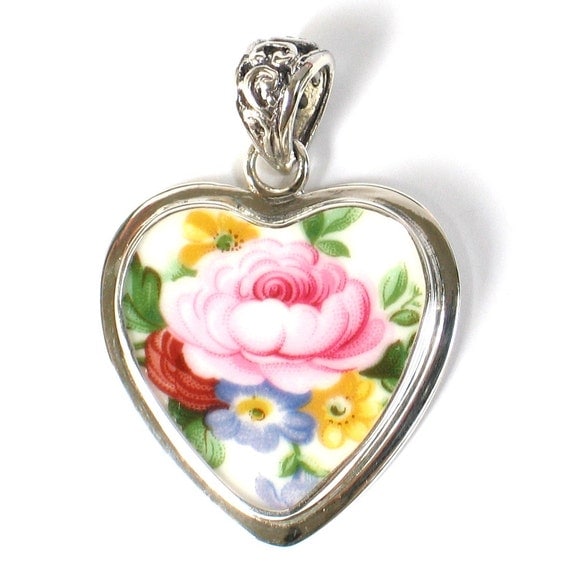 See more lovely broken china jewelry in our shop HERE www.brokenchinajewelryshop.com
What our customers are saying…
"I love giving and receiving this jewelry as gifts! " ~  Eyvette N.
Click here to subscribe to our email newsletter!