Duchesse de Montebello Rose was bred by Jean Laffay in France in 1824 and is a Hybrid China, a rather rare pale pink Gallica and is a very fine rose. It is of hybrid origin with some suggesting that is a China-Gallica hybrid while others believe it is of a Gallica-Noisette hybrid. This rose is very exquisite looking that one would think it has emerged straight out from a Botticelli painting. This rose is blush pink in color, very old-worldly, quartered and flat. The stems are long and slightly lax making them adorable roses for bouquets. The Duchesse de Montebello has strong fragrance with medium, full (26-40 petals) bloom form. Gallica roses are compact, prickly shrubs with dull green foliage and generally fragrant, single to double flowers in small clusters in mid-summer.
Image Source: http://www.gabys-rosengarten.de/duchesse-de-montebello.php
David Austin has used this rose in his breeding program and it is capable of producing some repeat blooming progeny. This rose was named after the wife of Marechal Lannes, one of Napoleon's soldiers who was honored with the title of Duc de Montebello. This rose is one of the sweetest of the soft pink Gallicas and has earned its place in the history of its clan. The Swedish Rose Society recommends Duchesse de Montebello for northern Sweden and is considered to be one of the finest Old Roses ever created.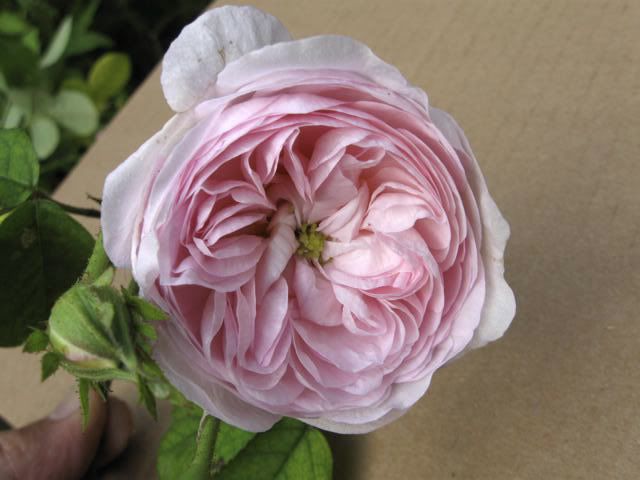 Image Source: http://forums.gardenweb.com/discussions/1701188/anyone-grow-duchesse-de-montebello
See more lovely broken china jewelry in our shop HERE www.brokenchinajewelryshop.com
What our customers are saying…
"Absolutely beautiful workmanship, this is just stunning!".  Tori W.
Click here to subscribe to our email newsletter!