La Ville de Bruxelles is a Damask rose and is one of the most sublime of old roses. This rose has full pure pink blooms that open almost flat, somewhat cupped, holding perfectly arranged petals in perfect arrangement until the moment they fall. La Ville de Bruxelles was bred by Jean-Pierre Vibert in France before 1837. The clear rich pink, fully double, nodding blooms are some of the largest and most luxurious to be found among the old roses. When fully open, the petals reflex at the edges leaving a slightly domed centre filled with small petals. There is a strong, rich, fruity fragrance. It forms an upright, vigorous shrub with spreading growth, prickly stems and plentiful, pale green foliage.
Image Source: http://www.paulbardenroses.com/ogr.review2005b.html
The La Ville de Bruxelles is a vigorous, spreading medium-sized shrub with a height of approximately 3′ to 5″ and a width of 3′ to 5′. The fragrance of this rose is astonishingly rich and is "essential rose" in quality. This rose doesn't seem to have black spots but is it susceptible to other leaf spotting disease. It seems to grow well with very little pruning, fertilizing, weeding or watering.
Image Source: http://www.rosesloubert.com/collection%20loubert/2002/ville%20de%20bruxelles%20(la)%20corymbe%20m.jpg
Image Source: http://www.roses.webhost.pl/2008/08/la-ville-de-bruxelles/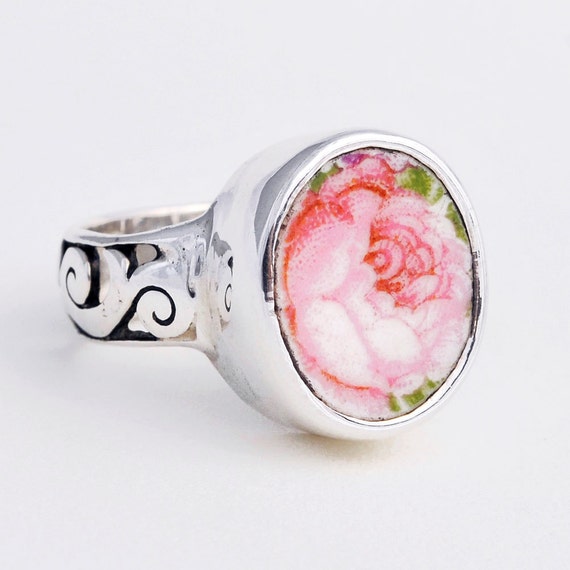 See more lovely broken china jewelry in our shop HERE.
What our customers are saying…
"Very pretty pendant, packed in a lovely gift box and shipped extremely quickly! I am very happy, thanks." ~ Robin M.