I saw these forest fairies at summer festival, not too hard to make and fun for the whole family!
Directions are below =).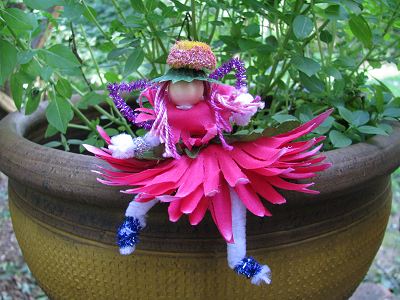 Image Source: http://www.blueberryforest.com/puppets/reading_nook/felt-wee-folk-book.htm
Image Source: www.thesleepytimegal.com
Materials:
1 wooden bead (or rounded wooden clothespin)
artificial flowers
2 chenille stems
1 metallic chenille stem
embroidery floss or yarn
glue dots or hot glue gun
Directions:
1. Bend a pipe cleaner in half and push the bent part through the wood bead so just a little loop is through the bead.
2. Roll up a loop of some embroidery floss and thread through the chenille stem loop. Tighten by pulling at the bottom of the chenille stem.  Cut the loop of floss so that this will be the hair.
3. Pull apart the artificial flower and thread the layers of petals and leaves to form a dress.
4. Take your second chenille stem to cinch the flower petals onto the first stem and to form the arms of the fairy.
5. Connect the ends of the metallic chenille stem to form a circle and twist in the middle (should look like an "infinity" loop). Wrap the middle around the body of the fairy once and twist to secure. Shape to look like wings.
6. Using glue dots or a hot glue gun or really strong tacky glue, you can glue either the smallest layer of petals, the sepal, or some other part of the artificial flower on top of the bead to form a hat or bonnet.
Reference Source: http://www.naturallyeducational.com/2011/09/how-to-make-a-flower-fairy/
See more lovely broken china jewelry in our shop HERE.
What our customers are saying…
"Great item! Well made, good price. Thanks so much!" ~ Hannah