The Sunny Days rose has bright yellow Floribunda roses. They grow to have long stems 12″-15″ at their longest and the flowers last all season long and into the fall depending on climate.
More about the Sunny Days Rose…
Type  Floribunda rose
Hybridizer Introduced by Jackson & Perkins (United States) around 2011
Blooms  Bright Yellow, double bloom form roses are 3 1/2″ across with 30 petals, cluster flowered bloom form
Growth Habits Dense, well-branched, Compact rose bush grows about 3 1/2′ tall by 3 1/2′ wide
Foliage Olive Green,Glossy, healthy foliage
Fragrance Moderate, spicy scent
Hardy Zones zones 5-9
This is a vigorous growing Floribunda rose that is a work horse in the garden. It continues to send out cluster after cluster of beautiful, fragrant flowers on long cutting stems (14-16″).
The bush is attractive in the garden even when not in bloom. It has olive green, glossy foliage and is well branched, and very healthy growing.
It is compact growing, and makes a good rose to plant in front of other taller roses that might be a bit leggy.
The 'Sunny Days' rose, is a Jackson & Perkins introduction, (sometime before 2012) and has been quite popular ever since, even becoming the 2012 Floribunda of the year.
Best Uses for this award winning rose;
Garden beds, rose garden, hedge, border, cut flowers, containers
Data & Image Source: http://www.allaboutrosegardening.com/Sunny-Days-Rose.html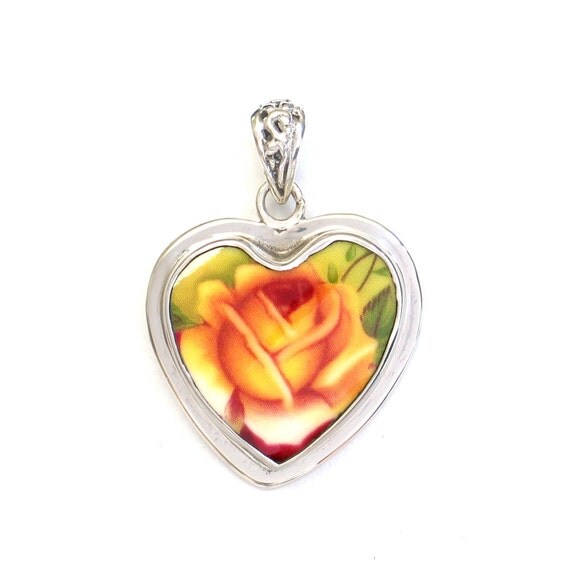 See more lovely broken china jewelry in our shop HERE www.brokenchinajewelryshop.com
What our customers are saying…
"I'm a rose gardener and love this pendant!" ~ June H.