Bolivian Fuchsia is a species of Fuchsia native to southern Peru, Bolivia and northern Argentina. It is a deciduous shrub or small tree with toothed, hairy or hairless leaves, sometimes with red veins and terminal, pendant panicles of pale pink to bright pink flower tubes with pale pink to red sepals and red petals in summer and autumn. The pendant flowers are terminal about 2 inches long with pink to vermillion tubes and reflexed sepals. Fuchsias prefer partial shade and should never dry out. They love water and cooler summer temperatures, making them a favorite for the Pacific Northwest. They are heavy feeders so feed with a a quick release, water soluble fertilizer every other week during the bloom season.
Image Source: http://www.strangewonderfulthings.com/109.htm
Start planting the bolivian fuchsia start them from transplants around mid-spring. Many gardeners transplant fuchsia around Easter. Normally you would plant 4 to 5 transplants in the average size hanging basket. Planting all of the same variety in one basket makes a much nicer show. Prune back dead or broken branches in spring, especially on plants that were left outside in areas with mild winters. Plants require protection from direct sun and temperatures reaching the mid 90s. The plants are hardy to about 25 for short periods. Propagation is by seed or cuttings. Many consider this one of the most fuchsias. Zones 10 to 11.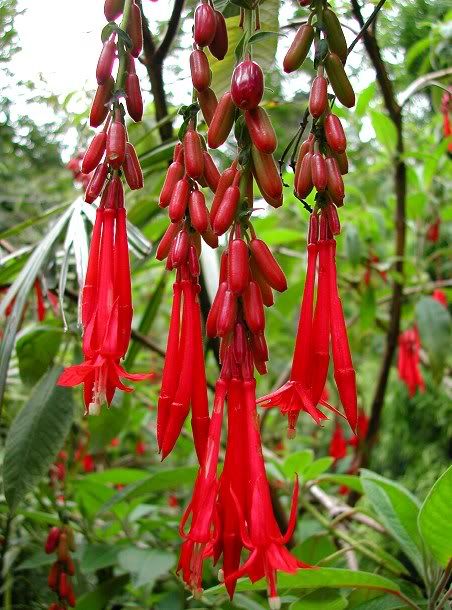 Image Source: http://www.strangewonderfulthings.com/125.htm
Vintage Belle Jewelry has been making broken china jewelry since 1994.  Our passion is to help our customers find a piece of broken china that brings back a fond memory or to make new ones with their families.  Thanks to all of our customers and fans who have helped support Vintage Belle broken china jewelry become a success over the years!
See more lovely broken china jewelry in our shop HERE. www.brokenchinajewelryshop.com
What our customers are saying…
"The roses in this jewelry are just beautiful!".  Rosa M.
Click here to subscribe to our email newsletter!