Our Lady of Guadalupe rose is a pinkish blend Floribunda bred by Dr. Keith W. Zary in the United States in 2000. It was introduced in the United States by Bear Creek Gardens Inc. in 2000. It is an upright, deciduous shrub with thorny stems bearing pinnate leaves divided into glossy, toothed, dark green leaflets and clusters of lightly fragrant, double, pale pink flowers from late spring into autumn. This rose has a mild sweet fragrance with 25 petals with an average diameter of 3″, the back of the petals is a darker pink whereas the inner side is a light pink.  The flowers come in clusters of 3 – 10 blooms, blooming in flushes throughout the season.
Image Source: https://redneckrosarian.wordpress.com/2011/06/09/day-9-national-rose-month/
This lovely rose does not get too large growing to an average of 3 feet high forming a nicely round bush. It is USDA zone 6b and warmer, disease resistant however a bit susceptible to blackspot. For spring pruning remove old canes, dead or diseased woods and cut back canes that cross. In warmer climates, cut back the remaining canes by about one-third. In colder areas, you'll probably find you'll have to prune a little more than that. This rose can be grown in the ground or in a container and requires spring freeze and winter freeze protection.
Image Source: http://www.treefrogfarm.com/store/flower-essences-tree-essences/our-lady-of-guadalupe-rose-flower-essence.html
Image Source: https://www.pinterest.com/justbetsys/rosy-roses/
This rose was developed as part of a partnership arrangement between the United Farm Workers and Jackson & Perkins. Part of the sales of this rose will go to the Hispanic College Fund.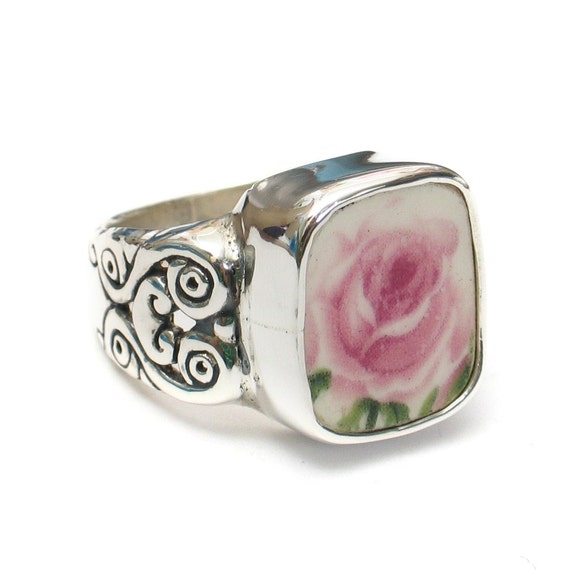 See more lovely broken china jewelry in our shop HERE.
What our customers are saying…
"This jewelry is so pretty and well made. I love them all."  Ginny S.
Click here to subscribe to our email newsletter!