Teddy Rides a Moose: Roosevelt once said, "the conservation of our natural resources and their proper use constitute the fundamental problem which underlies almost every other problem of our national life." (Photo Credit: Bettmann/CORBIS)
Image Source: http://www.history.com/photos/teddy-roosevelt/photo11
Theodore Roosevelt Jr. was born on October 27, 1858, in a four-story brownstone at 28 East 20th Street, in Manhattan, New York. He was the second of four children born to socialite Martha Stewart "Mittie" Bulloch and glass businessman and philanthropist Theodore Roosevelt, Sr. He had an older sister, Anna (nicknamed "Bamie"), a younger brother, Elliott, and a younger sister, Corinne.
Elliott was the father of First Lady Anna Eleanor Roosevelt, the wife of President Franklin Delano Roosevelt. His paternal grandfather was of Dutch descent; his other ancestry included English, Scots-Irish, Scottish, Welsh, and French.
Data Source: http://en.wikipedia.org/wiki/Theodore_Roosevelt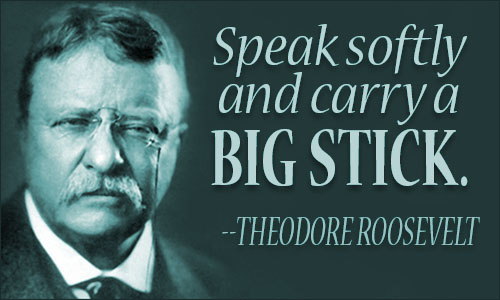 Roosevelt's youth was largely shaped by his poor health and his need to overcome severe asthma, which has a debilitating impact on the body and personality. He repeatedly experienced sudden nighttime asthma attacks that caused near deathlike experiences of being smothered to death, terrifying Theodore and his parents. Nevertheless, he was energetic and mischievously inquisitive.
His lifelong interest in zoology began at age seven when he saw a dead seal at a local market; after obtaining the seal's head, Roosevelt and two cousins formed what they called the "Roosevelt Museum of Natural History". Having learned the rudiments of taxidermy, he filled his makeshift museum with animals that he killed or caught; he then studied the animals and prepared them for display. At age nine, he recorded his observation of insects in a paper entitled "The Natural History of Insects".