The White Browed Rose finch is a large brightly colored rosefinch, both sexes with distinct plumage.  Male has deep ping rump and underparts, and a long pale supercilium tipped with white; pale pink or whitish tips to median coverts, slightly duller tips to greaters.  Female similar to other female rosefinches, but nominate has deep yellow rump and warm brown on breast (whiter in other races).
Habitat – Common in summer, found only at high altitudes between 7500 ft and 10000 ft, on the Afghanistan/Pakistan border and in Nepal, Sikkim, Tibet and Western China.
Data Source: Finches and Sparrows (by Peter Clement)
http://www.amazon.com/Finches-Sparrows-Helm-Identification-Guides/dp/1408135086
Image Source: http://www.snipview.com/q/White-browed%20Rosefinch
Image Source: http://www.surfbirds.com/trip_report.php?id=887
Image Source: http://www.tropicalbirding.com/asia-tours/china/southeast-china/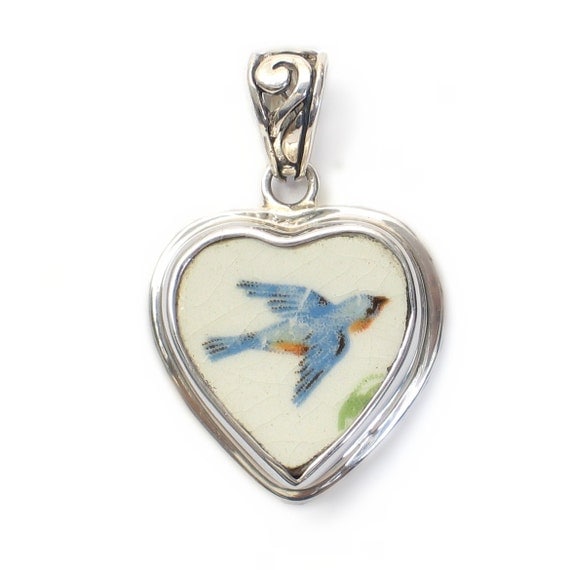 See more lovely broken china jewelry in our shop HERE.
What our customers are saying…
"Totally elated with this piece. Love it and am very pleased with the quality and how fast it arrived.
Gotten a lot of compliments on it. Would recommend highly to anyone " ~ Linda R.