The Kaffir Lily (also called Clivia Lily or Bush Lily) is a fantastic container plant for shady balcony gardens. This flowering plant is native to damp woodland habitats in South Africa as well as in Swaziland.  It is also reportedly naturalized in Mexico. The flowers are generally a delicate pink or orange red in hue, and seem to be completely at ease with whatever autumn weather is thrown at them. The flowering clusters look so fragile as to be non-hardy, but hardy they are, and should find a place in any border or garden bed. The kaffir lily is an undemanding and easy-to-grow bulb. While it is generally a slow grower, the plant will eventually become quite large, reaching around 2 feet tall. They grow wll in indoor gardens and should be kept in 12-inch or larger pots and be a few years old before they are expected to bloom. While the plant is not blooming, its fascinating thick, dark green leaves still make for an attractive display in the balcony container garden.
Plant Kaffir Lilies in masses beneath trees or on the shaded side of your home as these plants prefers areas of shade and will thrive in even the darkest corners of the garden. They are suitable for growing as houseplants in colder and frost free areas. They can also be grown outside and when they are they should be placed in a shade.
Image Source: https://pegasusproducts.files.wordpress.com/2010/04/kaffir-lily.jpeg
Kaffir Lily is the one most commonly found in cultivation in many gardens  in the United States. In late winter or spring, tall stalks shoot up from the leaves and bear crowded beautiful clusters of brightly colored blossoms, after reaching 3-5 years of age. These evergreen plants typically have a large head (umbel) of between 12 and 20 trumpet shaped flowers on top of a thick stem.
Expect Kaffir Lilies to bloom in early spring although some growers can get them to produce flowers at other times. Planting Kaffir Lilies require patience for this is a slow growing plant where the first bloom would take approximately 2 -3 years. The flowers last for a couple of days and then they should be removed (when they are deteriorating) to allow new growth and others to bloom. When they are in bloom, do avoid moving the plant.  The plant contains a substance called Lycorine which is poisonous, please keep them away from cats and pets that like to nibble plant leaves.
Image Source: www.indoorflowers.net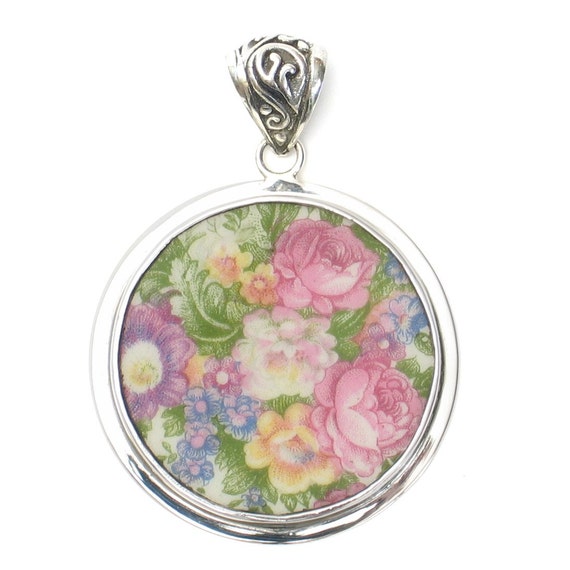 See more lovely broken china jewelry in our shop HERE.
What our customers are saying…
"This Washington Colonial Pendant is absolutely gorgeous! ~ Elena S."