Jadeite has a rich history and has been manufactured by several companies in the United States, each company having their own style, opacity and shade of green and is known by several names one of which is Jadeite also known as Fire King. Jadeite is a glass tableware made of Jade green opaque milk glass. There is another variety in blue called Azure-ite and both glass tableware (in green and blue) were produced by Anchor Hocking.
Anchor Hocking is said to be the most well known manufacturer of jadeite with its Fire King line displayed various designs such as "alice", "restaurant ware" and "charm". Anchor Hocking was founded by Isaac J. Collins, in 1905, near Lancaster, Ohio started manufacturing Fire King Jadeite in the 1940's producing the most output between 1945 and 1975. Jadeite is very durable, functional and fun looking making it the most popular product Anchor Hocking has ever produced.
Image Source: http://farm5.staticflickr.com/4091/5031794920_f2f2ce9f4d_b.jpg
Fire-King Jadeite debuted in 1942 is the company's wildly successful line of ovenproof glass and was made of 30 years. One of Fire King's designs called Alice features a delicately embossed floral pattern. It came out early in the 1940s and is the oldest Fire King style. Only cups, saucers and dinner plates were made with the cups and saucers made much more plentiful than the plates. They were given away with Quaker Oats crystal Wedding Oats while the plates were a move goer's premium. Charm is a square Fire King pattern produced from 1950 to 1954 and is the hardest Jadeite style to find.
Image Source: www.thethriftshopper.com
Restaurant Ware was produced from 1950 to 1956 and is the most well-known and collected pattern. This pattern was once used in diners all over the country, it was sold in five and dimes and was produced in a wide variety of tableware objects including mugs and bowls, different sized cups and partitioned plates.
Image Source: https://s-media-cache-ak0.pinimg.com/originals/ae/ec/31/aeec319503fc178e196bb1caf043f9af.jpg
Today jadeite green is a popular term for the soft green color when describing other kitchenware such as Tupperware. In 2000 Fire King introduced a new line but quickly stopped as it didn't meet the standards of the older glass. Fire King didn't mark all of their pieces, they produced pieces for brand name companies as giveaways for department stores. Fire King Jadeite can be found in antique shops and in auctions sites like eBay.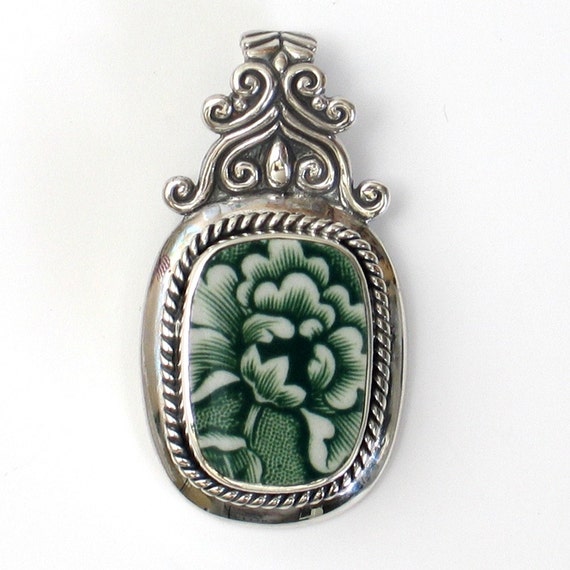 See more lovely broken china jewelry in our shop HERE.
What our customers are saying…
"Really well made and really lovely as well. I will definitely shop here again.! ~ Susie C"
Click here to subscribe to our email list!