Gazania is a genus of flowering plants native to South Africa. They produce large, daisy-like flowers in bright shades of yellow and orange over a long period of summer. They are usually planted as drought-tolerant groundcover as this tough plant can endure poor soil, baked conditions and drought while still managing to produce beautiful and bright flowers.
As a perennial, gazania blooms from mid-summer to frost bearing boldly colored flowers. The flowers appear over toothed dark green or silver leaves (the foliage color differs between varieties). They are great in beds, borders and containers.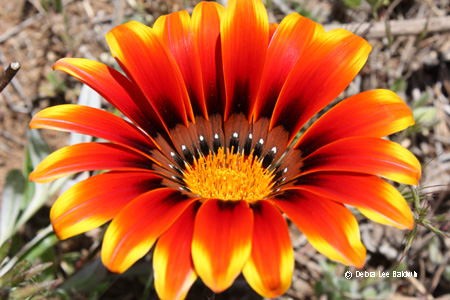 Image Source:http://www.gardeninggonewild.com/?p=4828
Care for gazania flowers is limited and often times non-existent. The plant is often referred to as the African daisy and often trails along the ground. In areas where it is hardy, landscapers use this plant in combination with other low growers as an ornamental ground cover to edge lawns or even replace parts of them. If you grow your gazania flowers from seed, start them indoors about 10 weeks before the last frost in your area. Cover the seeds with a thin layer of soil and keep them moist throughout the germination and transplant stage. Harden them off and set them outdoors two weeks after the average last frost.
Plant young gazania plants about a foot apart, allowing them to reach their eventual spread of 10 inches without crowding, which promotes mildew. If your soil is heavy, plant your gazanias in containers. Maintenance for gazania is relatively easy just water them when the soil surface is dry and regularly check for pests like mealybugs.
Image Source: http://clubcareflorida.com/plants-by-season/fall/gazania-daisies/
Image Source:  http://www.vanmeuwen.com/flowers/flower-plants/annual-bedding-plants/gazania-stars-in-stripes/61012VM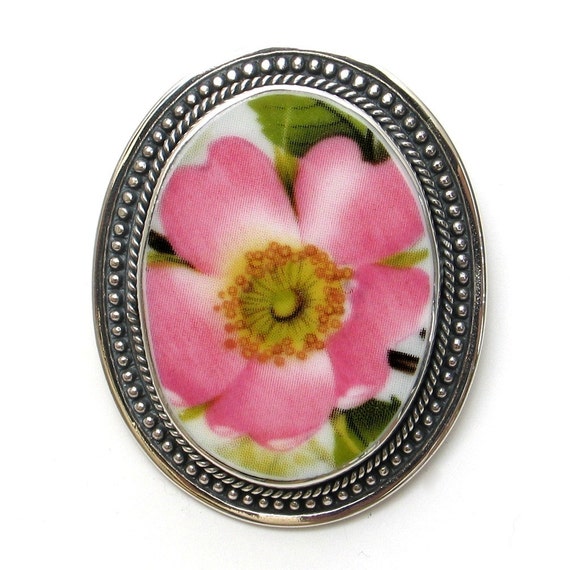 See more lovely broken china jewelry in our shop HERE.
What our customers are saying…
"Stunning, I love it! " ~  Mary M.