Have you ever waned to lighten up your living room with an antique look?  This article will show you how to make your own lace doily bowl.
You'll Need:
1 doily, at least 8″ diameter,
a medium to large kitchen mixing bowl
seran wrap
fabric stiffener, I used Paverpol, a great non-toxic product, that's even washable! Available in Israel here
How To:
Cover your bowl in seran wrap, with as few wrinkles/ridges as possible
Dunk your doily into the fabric stiffener, and when it's evenly coated, remove all the excess by running the doily between two fingers, or whatever works for you. Yes this is messy!
Turn your bowl upside down, and place doily right side down over the bowl.
Stretch the doily over the bowl evenly all around, and even out any mis-shapen areas. Keep doing this until you are totally satisfied that your resulting bowl will be symmetrical and beautiful!
Set aside to dry for 24 hours. (Waiting is the most difficult part, and I have to admit, I took it off after about 6 hours because I just had to see the results. But don't follow my example, just be patient! Carefully remove your doily bowl by lifting the seran wrap from the bowl, possibly using a dull knife to help you out.
The side touching the bowl will still need to dry, so set aside for at least another 24 hours to achieve the final results.
With small sharp scissors, trim off any excess fabric stiffener between holes. Enjoy!
Make some of these as gifts, who wouldn't love one?
Image Source: http://www.crafthubs.com/diy-doily-bowl/5114
Image  & Data Source: http://www.creativejewishmom.com/2010/10/you-can-make-a-bowl-from-a-crocheted-doily.html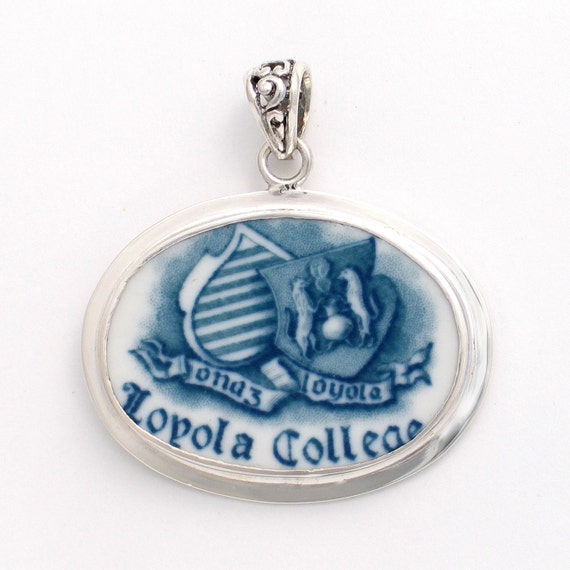 (Syracuse Blue and White Pendant shown above)
See more lovely broken china jewelry in our shop HERE.
What our customers are saying…
"I wanted something original for my jewelry collection and this is perfect! " ~ Eugina M.