Thanksgiving postcards fun to collect and easy to find.  The history behind Thanksgiving is pretty well known. A small group landed on Plymouth Rock in December 1620 and hoped to found a colony with freedom to practice religion as they pleased.
Native Americans helped these early arrivers and provided and a beautiful harvest in 1621.  They held a feast to give thanks to God for their deliverance & the Virginian colonists had held a similar harvest celebration, and it was common practice in many European communities. In fact, any group that survived a year in the New World had reason to be thankful.
The idea of a Thanksgiving Day spread throughout the colonies. Colonial governors issued annual proclamations, and President Washington declared a general day of thanksgiving in 1789.  In 1863, President Lincoln appointed the last Thursday in November as Thanksgiving Day. It was observed on this date until 1941, when President Franklin D. Roosevelt changed it to the fourth (but not final) Thursday in November.
Postcard makers liked to focus on one particular aspect of the holiday: a turkey for Thanksgiving dinner.  It's very likely that wild turkeys were among the fowl hunted in 1621, but the birds tended to push the Pilgrims into the background on early 20th century postcards. When Pilgrims are pictured, they're shown in dark, plain costumes with bland expressions that reveal little of the personalities that dared the new world. – See more at:
– See more at: http://www.antiquetrader.com/articles/postcards/thanksgiving_vintage_postcards#sthash.6K2TRLgH.dpuf
Source:http://www.lisascreativedesigns.com/lisascottageblog/2012/11/vintage-thanksgiving-printables/
Source:  http://veryvintageimages.blogspot.com/2010/11/vintage-thanksgiving-cards-images.html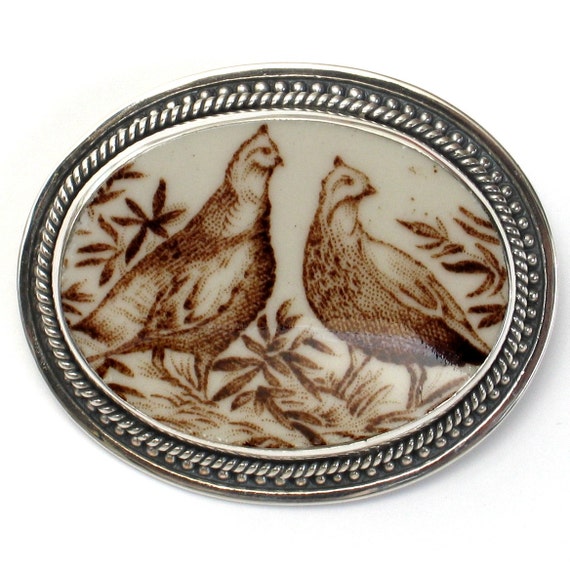 See more lovely broken china jewelry in our shop HERE.
What our customers are saying…
"WOW! Fabulous pendant, just love it!" ~ Jane H. Andover, MA