A great way to entertain for the holidays is to have a cider bar for everyone to enjoy.
Use a medium sized pumpkin, scraping the sides well and removing all the seeds and pulp before filling it with apple cider. Make apple slices and cinnamon sticks for garnish and serve in eclectic glasses like mason jars!
Source:  http://www.pinterest.com/pin/247909154463856260/
Here is a simple way to make your own apple cider.
Source: http://imbibemagazine.com/Homemade-Apple-Cider-Recipe
Homemade Apple Cider
Known in the U.S. and Canada as "sweet cider" because it's not fermented like its "hard" cousin, this quintessential cool-weather sipper differs from standard grocery-store apple juice; the fresh crushed pulp and skins give it a unique tartness and an added texture. Relatively easy to make at home, this unfermented cider is the perfect way to squeeze out all the advantages of fresh fruit from markets and local orchards this season. Here's our step-by-step guide to homemade apple cider.
You'll need: 4 pounds of apples (makes one liter)
Tools
Apple corer
Sharp knife
Blender or food processor
Cheesecloth
Saucepan
Thermometer
1-liter glass jar with lid
Step 1


Thoroughly wash apples. Core and cut into wedges, discarding any rotten or damaged parts.

Step 2

Puree apples in batches until they resemble a fine pulp. Let crushed fruit rest together for 30 minutes.

Step 3

Place pulp in a triple layer of cheesecloth and twist, squeezing the juice into a saucepan. Continue to squeeze and twist until all the juice is extracted.

Step 4

Pasteurize by briefly heating to 160 degrees. Be sure not to over-cook—you don't want to melt away any of that fresh-pressed flavor.

Step 5

Return cider to a clean glass jar and cover. Can be stored in the refrigerator for up to one week. Serve hot or cold. Makes about one liter of cider.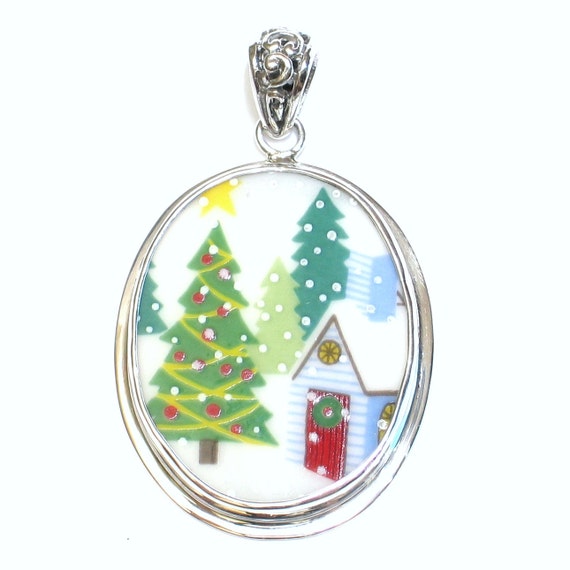 See more lovely broken china jewelry in our shop HERE.
What our customers are saying…
"WOW! Fabulous pendant, just love it!" ~ Pamela